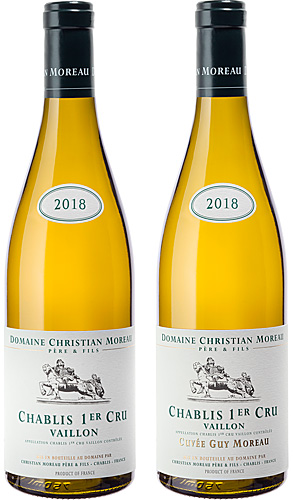 Premier Cru Vaillon et Vaillon Guy Moreau
The appellation of Vaillon is located on the left bank of Chablis. We have 6 parcels of a total area of 4,7 ha in the historical heart of the Vaillons, all exposed south/south-east.
The soil is also from the Kimmeridgien period with clay-limestone marls very rich of marine fossils, and most specifically small oyster fossils, called Exogyra Virgula.
Two wines are produced from those vines: our Premier Cru Vaillon, blending of five different parcels which average age is from 37 to 74 years old – and our Premier Cru Vaillon, Cuvée Guy Moreau issued from a parcel of 1 ha where the vines were planted in 1933 by Guy Moreau, Christian's father. This is the oldest vine of the Domaine.
Premier Cru Vaillon : Download the technical sheet – Vintage 2020
Premier Cru Vaillon : Download the technical sheet – Vintage 2019
Premier Cru Vaillon : Download the technical sheet – Vintage 2018
Premier Cru Vaillon Guy Moreau : Download the technical sheet – Vintage 2020
Premier Cru Vaillon Guy Moreau : Download the technical sheet – Vintage 2019
Premier Cru Vaillon Guy Moreau : Download the technical sheet – Vintage 2018