Press 2023
Allen Meadows – 4th Quarter, 2023, Issue 92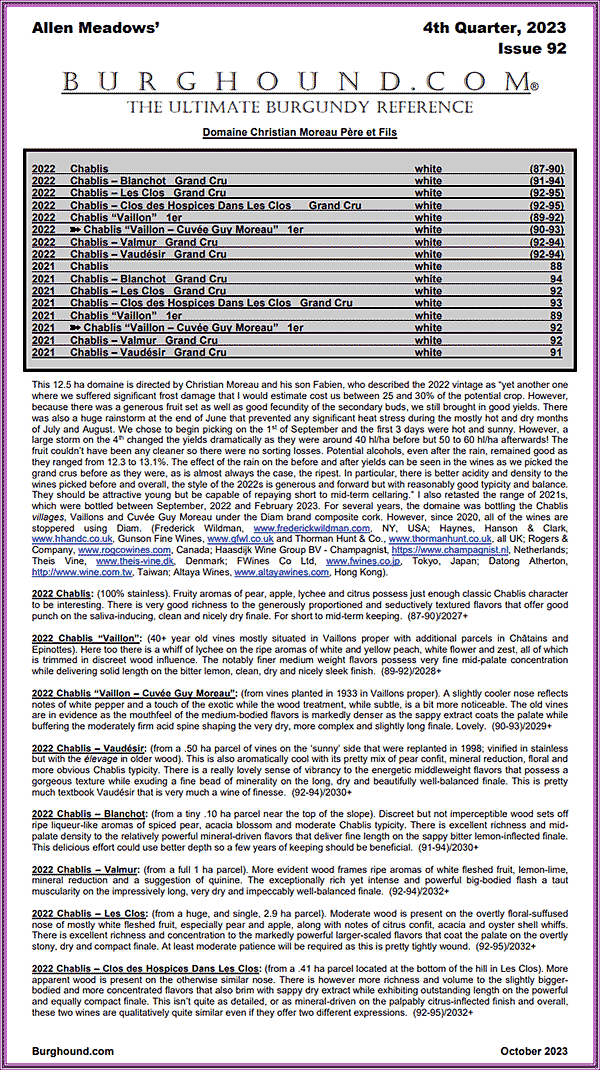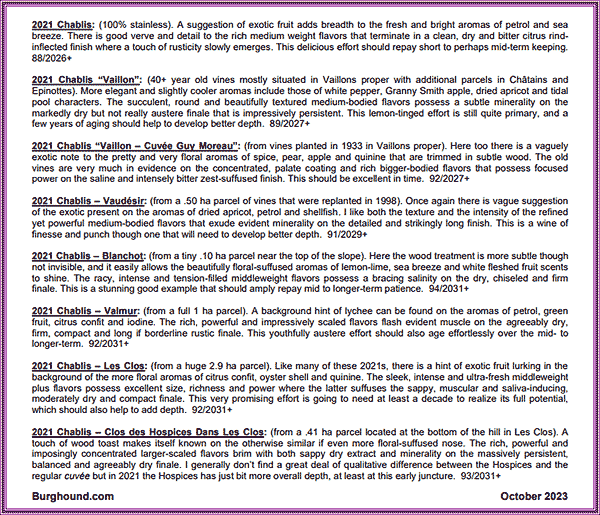 VINOUS – Explore all things wine
by Stephen Tanzer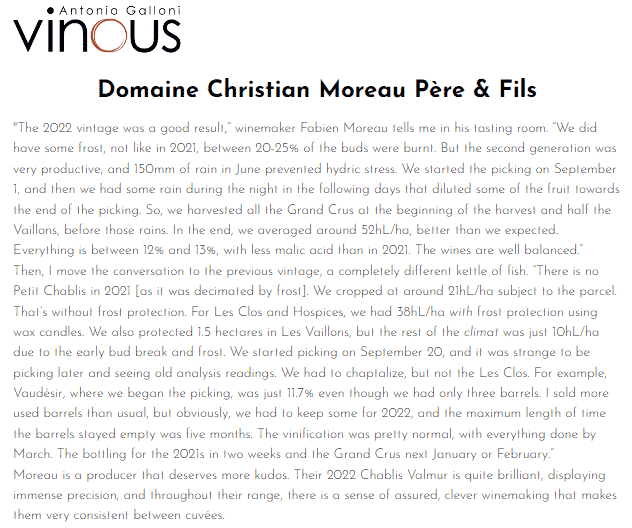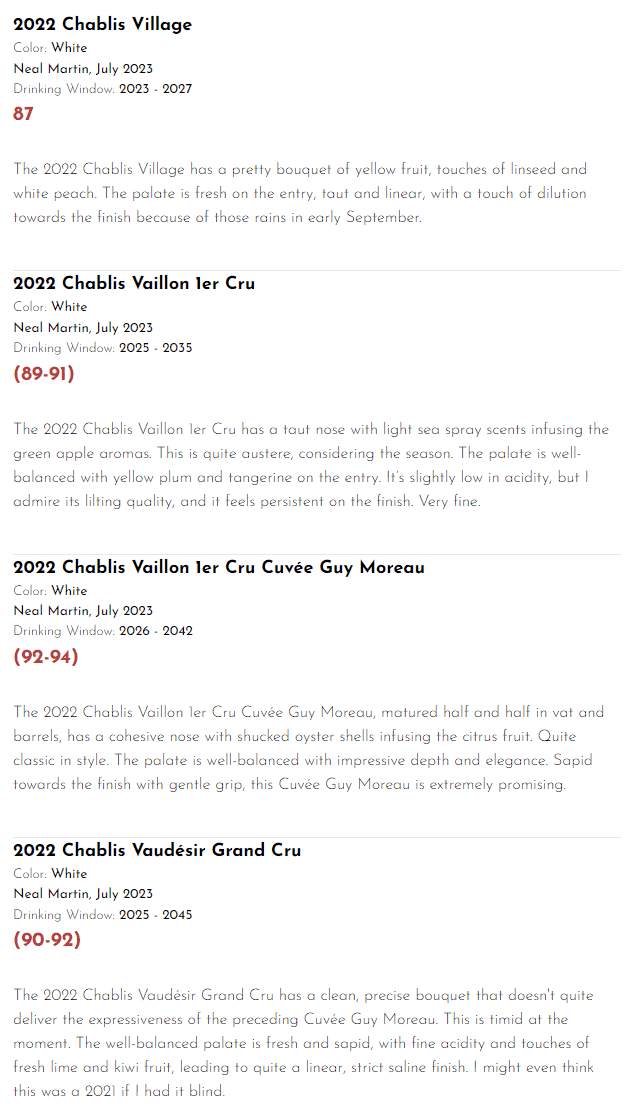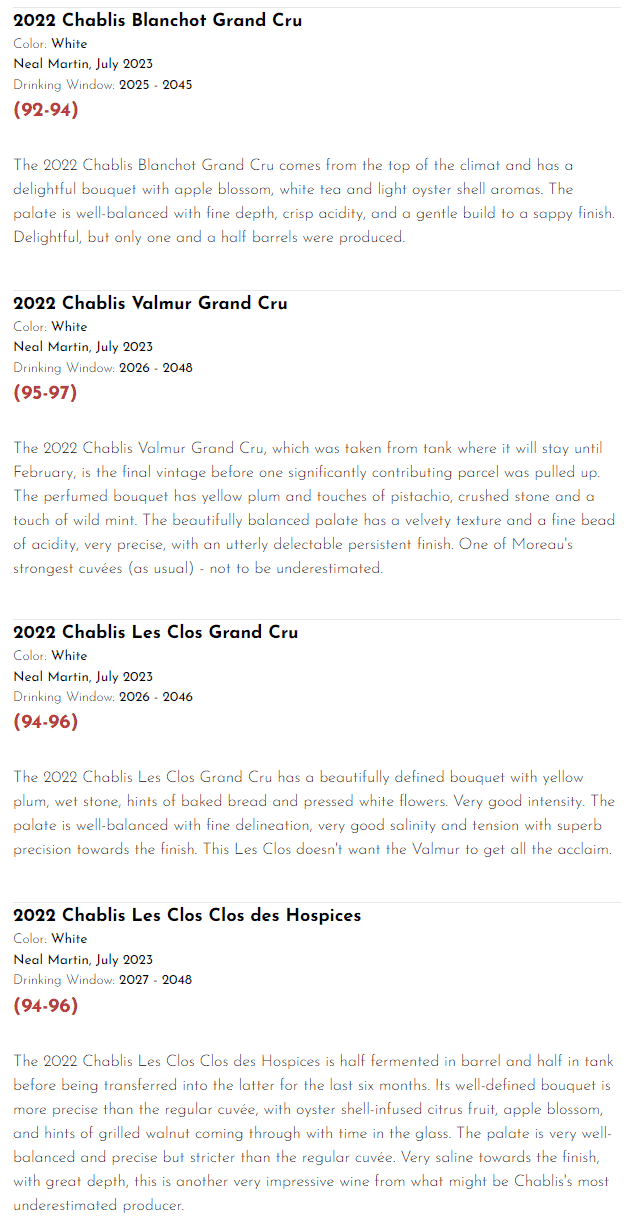 Le Guide des Meilleurs Vins de France 2024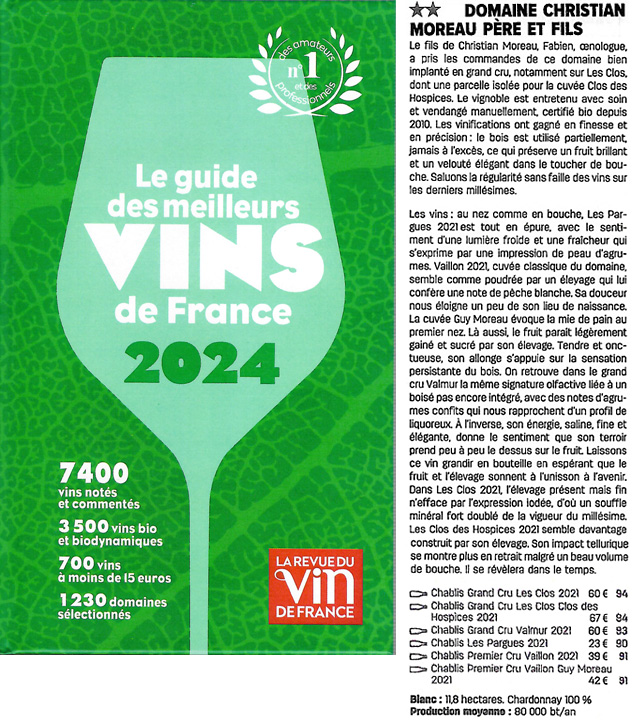 La Revue du Vin de France, May 2023

Bill Nanson, Burgundy Report
Fabien on 2022:
"We didn't have a mad volume – we averaged 52 hl/ha – and I'm very happy with that. 12-13° maximum, not the highest acidities but it doesn't show in the wines. And I think like the 2019s – which are super now – and even the 2009s, I think they will just get better and better and more Chablis in style."
Fabien on 2021:
"We have half grand cru and half 1er cru so we need 40 hl/ha for the structure of the domaine. 2021 was the worst volume here since 2002 – we did 27 hl/ha in 2003 for example but only 20 in 2021. We had some nice weather leading up to the harvest but then rain again at harvest time. The first bottlings were made after the 2022 harvest and the rest were done just a few weeks ago."
The wines…
Really a super result from this domaine – and multiple wines are worth a special search on your part. The oak is visible but a consistent part of the elevage of this domaine. You will hardly note it if you can be sufficiently patient. Wait three years – or not – it's your own taste that will guide you!
All the wines are sealed with 'traditional' DIAM:
2021 Chablis Les Pargues
1.5 ha of domaine vines in Pargues.
Fresh, yellow citrus with a good energy. Mouth-filling, fine tannin framing the flavour. The finish is top, fine, slightly sizzling pure width of flavour – this could turn out to be a great villages…
2021 Chablis 1er Vaillon
There are 6 parcels of Vaillon at the domaine – 5 are assembled for this cuvée.
The creamy oak is a more visible here – but this remains a very attractive invitation of floral perfume too. The oak is in charge of this wine from a flavour perspective but the shape and direction – the structure – is really very fine and beautifully mouth-watering. Wait 3 years get the maximum of the wine and the minimum of the barrels – I think it will be excellent!
2021 Chablis 1er Vaillons Cuvée Guy Moreau
Vines that are over 80 years old – the 'sixth' parcel of Vaillons. The oldest vines planted by grandfather in 1933, a longer elevage and just a few newer barrels.
More direct and more perfumed – of course, the barrel is still visible – but more modestly than for the younger brother. More structural wine – there's more architecture here – slowly mouth-watering with melting flavour. Absorbing, delicious wine – I think this will be a great one – but, again, wait three years!
2021 Chablis Vaudésir
Here the aromatic minerality is more visible – the barrel almost invisible – that's another great invitation. Pure direct – oh wow – a slight padding but what beautiful texture, this wine is direct and mineral – a little extra flavour from the barrel but only in the finishing flavours. Keep this 5 years – I'm very impressed.
2021 Chablis Valmur
Here we have something broader, showcasing more of the fruit, it's growing a little floral perfume too. Broader but no less clean and mineral – showing more of its grand cru complexity today. Again with some finishing oak. A much more accessible wine – that you could even drink today if you don't mind a little coconut from the barrel – but better in 3-5 years. I think that's an excellent, potentially great Valmur.
2021 Chablis Le Clos
They have top, middle and bottom of the clos in this cuvée.
A very faint reduction is the first note – slowly broadening with aeration, gaining higher half-citrus, half-floral notes. Clean, pure, incisive, a subtle generosity – plenty of growing complexity. Rather easy today – but at the same time very rewarding!
2021 Chablis Le Clos des Hospices dans Les Clos
Of course, from the bottom of the Clos.
The reduction is more subtle here – and the energy and complexity of the top notes less so – that's very lovely. Extra incisive, extra clarity, extra energy – what more could I wish for – maybe a hint less oak in the finishing flavours – but give it 3+ years and they will be gone. I don't always find a step up in quality with this wine – just different – but in 21 – yes. Bravo!

Burgundy 2021 Report, Tim Atkin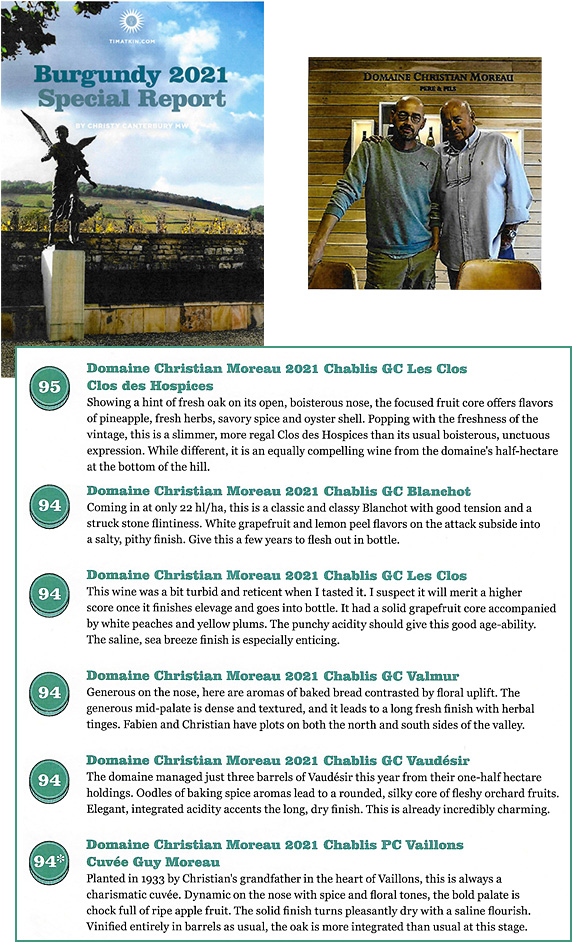 The Chablis Complex, Roger Kimball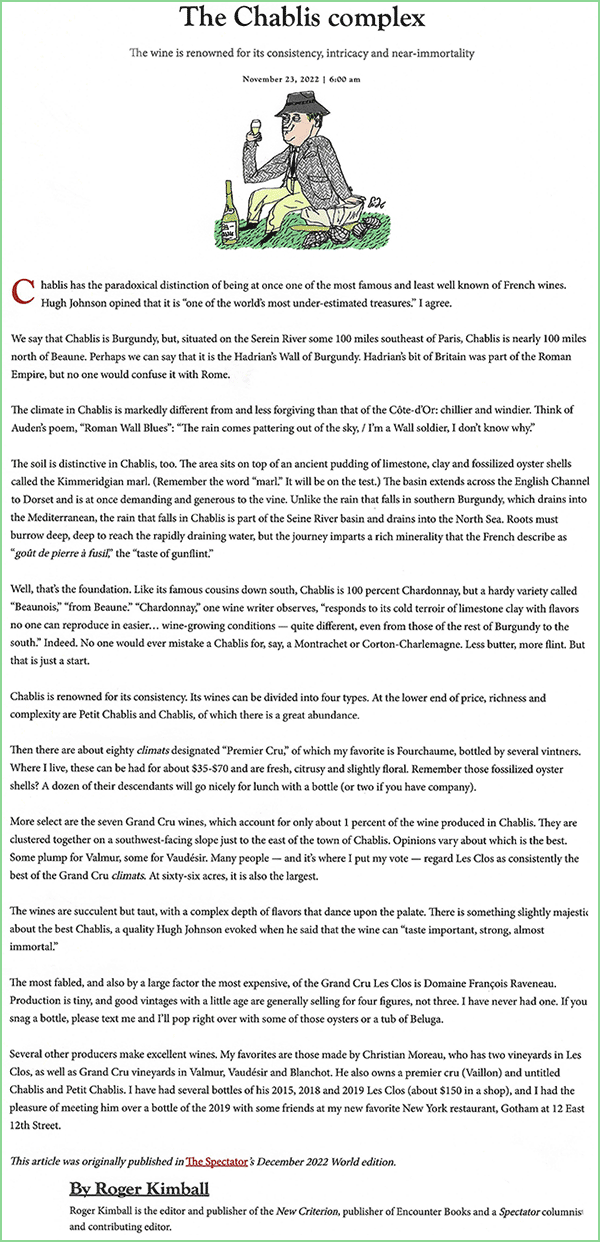 Bourgogne Aujourd'hui, N°168