Visit to China, November 2009



Tasting in Beijing


On the Great Wall


Tasting in Shanghai


Galar diner with the Confrérie des Chevaliers du Tastevin in Shanghai


Hong Kong


Taiwan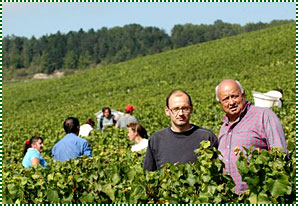 Harvest 2009

So after the third grape analyses from our different vineyard parcels, we decided to start our harvest on September 14, and we finished September 21.
Picking, always by hands, was done again under a superb and dry weather, and the sanitary conditions were absolutely exceptional. We had all the time we needed to choose the date of picking for each parcel, without any rush.
Yield were normal, a good natural degree (12.3° to 13.2°), the acidity may be a bit low compare to 2007 and 2008 but higher than 2006.
So at this moment the natural alcohol fermentation (we don't use any yeast) is in process.

Compare 2009 to another vintage is difficult, like always. At this time we could suppose that 2009 could have some similarity with 2005 because of the richness and maybe a small lack of acidity compare to 2007 or 2008.



Chablis, September 2009


Christian and Fabien Moreau had the great honor to welcome in Chablis for a vineyard visit and a great tasting in their cellar Admiral James Stavridis, United States Navy, Supreme Allied Commander, Europe.
Admiral James Stavridis was accompagnied by his wife Laura.


Chablis, July 2009
The Vine
We had one of the coldest winter. We didn't have very cold temperature but the average was very low. We had a nice spring without any frost.

The flower started quiet quickly under nice condition but, cold temperature and rain slow down the process. Flowering was over near June 19th without finally any millerandage. We can expect an early harvest around September 15th, depending as often, on the weather at the end of August and the beginning of September.


Vintage 2007
Like we said in our last news, this is vintage that needs time; it is improving every month with a typical mineral character and great freshness. There is no rush to drink and enjoy the wine.


Vintage 2008
Good news, all the fermentations are done, alcoholic and malolactic! Like we said in the previous news, this is our first vintage, that's all our wine had done the alcohol fermentation with indigenous yeast (without any inoculation). We had to be patient and finally everything was done at the end of February and we are satisfied of the results.

The first bottling for our Petit-Chablis and Chablis AC was done first week of July and the rest of the 1er Cru and Grands Crus will be done at the end of September and October.

At the harvest time, we did figure that quality would be there for the 2008 and we were right. We now think that we have the minerality of the 2007 with the richness of the 2006 vintage.


Pictures


Friends from Vintage and vine, Australia.


Le vin en direct with sommelier from Holland.


F.Wildman with customers from New York and New Jersey.


Customers from Prague.


Tasting at the Georges V in Paris.


When you don't use herbicide on a steep hill, you need some strong arm.


Pauline Moreau, my new hand picker for the 2009 harvest !


Australia trip in March 2009, organized by our Australian importer Vintage and Vine


Events :
F. Wildman Burgundy week, February 2009

San Francisco, Tasting and winemaker dinner for the 2007 Vintage


Chicago, Tasting and semminar at Perman Wine store.


Chicago, Tasting for the 2007 Vintage


New York, Tasting and seminar at Chelsea Wine Vault organized by Vladimir Garcia


New Jersey, and Boston Tasting and diner


Rocco Lombardo, President of the New Fine Wine Division, with Antoine Vincent and Amaury Devillard


The Burgundy team, with the Frederick Wildman Fine Wine Division